Anjuna Beach in North Goa
Perhaps the best known of Goa's beaches, Anjuna beach is legendary on the traveller scene, and was one of the first places to attract 'Goa Hippies' of the 1960s.

Throughout the 1980s and '90s the beach was the epicentre of Goa's psy-trance scene, and the alternative soundtrack to Goa, Goa Trance, was born. Huge parties lasting for days at a time took place on the sand or in the nearby jungle, and LSD was consumed like there was no tomorrow.

Late night music bans in Goa, and a tendency towards upmarket rather than budget tourism has left Anjuna beach in a somewhat neglected state. The beach is not spectacular by Goan standards, and the north of the beach has a slightly dodgy element to it these days.

Given a bit of time, however, Anjuna's charm creeps up on unsuspecting visitors. The sound of the crows in the palm trees, the rocky shore and memorable sunsets and the inextricable trippiness of the place combine to induce a type of warm nostalgia that goes very well with a few Kingfishers and good company.
                Anjuna Beach Highlights

Anjuna Market Barter for bindis and bedspreads at the famous Anjuna flea market behind Anjuna beach. Cool off listening to live music at one of the market's busy cafe bars.

Eat Well Paneer tikka masala to homemade pasta penne, enjoy excellent food from Anjuna's multicultural restaurants - see 'Places To Eat' below.

Catch A Movie An open air cinema screen at the Sea Queen restaurant shows two films a night, often new releases.

People Watching Indulge your voyeuristic side and watch the comings and goings of Anjuna's interesting crowds at Curlies or the Shore Bar on Anjuna beach.

Rent A Scooter See some of the beautiful Goan countryside by hiring a scooter for the day (or season!).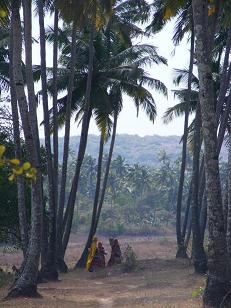 Getting There

Arrival in Goa is usually at the airport in Dabolim, or the train station in Margao. A pre-paid taxi is the best way to reach Goan destinations from Dabolim. Consider sharing with other travellers for a cheaper rate. If you are on a tight budget take a taxi as far as Panjim and continue from there on public transport.
From Margao take the frequent bus to Panjim (you will need to queue to buy a ticket before boarding). From here you can connect to Mapusa by local bus. Alternatively, hop on a train to Mapusa's nearest train station, Thivim, and take a rickshaw or bus into town.
Once in Mapusa, frequent buses leave for destinations all over north Goa. Ask around to find the right bus, and buy your ticket on board. Fares are usually no more that R.10 between most destinations. A rickshaw from Mapusa to Anjuna will cost R.300+ (agree on a price before travel).
You will probably be dropped off at Starco's Junction - from here it is a short walk west towards Anjuna beach.

Places To Eat

Anjuna is home to some of our favourite places to eat in north Goa with the road leading from Mapusa/Calangute towards the sea offering some particularly tempting dining options.
Blue Tao serves delicious pizzas, fresh salads, home-made gnocchi and pesto to die for. Further down the road, as you approach the sea, a small cafe to your right, Yash's Cafe, does great Israeli breakfasts and is becoming increasingly popular in the evening. Starco's offers accommodation and its small, leafy restaurant tucked away off the road does authentic Indian food and good steaks in an intimate, friendly environment - but watch out for mosquitos!
A favourite with us, the Sea Queen is one of Anjuna's most popular restaurants. The extensive menu is great - tandoori items are especially good. The chef at the tandoor oven looks out over the diners as he cooks, and a large screen shows two films a night, usually new releases but some classics are thrown in from time to time. Staff are invariably friendly and the atmosphere is addictive.
Avalon Sunset on the sea front at the north side of Anjuna beach is one of the best sea-facing options, with stunning views over the rocks and good calzone pizzas.
The famous German Bakery in south Anjuna serves health drinks, tofu dishes, good coffee and cakes and has WIFI. Great place to go for some breakfast before the Wednesday Anjuna Market which is nearby.
Long-stay travellers in north Goa will no doubt appreciate the well stocked supermarket in Anjuna. It is north from the main crossroads in Anjuna (called Starco Junction, where all the buses leave from) about 100m up the road on the left - before you reach the police station.

Places To Drink / Party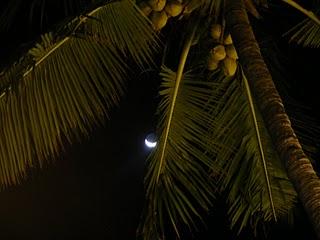 Paradiso's is about the only place in Anjuna to dance / drink until the small hours, though week nights are sometimes empty. The ethereal decor and sea-front location attract Bombaites and travellers alike. Women often get free entry and complimentary drinks.
Curlies on the sea front is an atmosperic bar / eatery that sometimes puts on parties and is a great place to watch the sunset and the crowds, especially after the Anjuna flea market on Wednesdays. Expect the psychedelic sounds and relaxed ambience that make Anjuna so damn appealing!
Visiting the Nine Bar at nearby Vagator beach and asking around is probably the best way to find out about any open air parties happening in the area.

Places To Stay

Places tend to fill up quickly in season around Anjuna, and prices are on the steady increase. Starco's was one of the first guesthouses in Goa to cater for foreign tourists, and is in a good, central location. The Sea Queen offers clean, pleasant accommodation, though the resturant is often busy until 11pm or so.
Long term travellers will get cheaper rates, and there are homestay / rental opportunities in the area. South Anjuna tends to be a little cheaper than the north. Expect to pay R.500+ per night, more in peak season (Christmas time and New Year).

Practicalities

Several cash machines can be found on the Calangute/Anjuna road by the Dominoes Pizza place. For travel arrangements, seek out the travel agents by the sea at the north side of the beach where you can book train tickets/flights/coaches.
Internet cafes and money changers are clustered around Starco's Junction. Look around for the best rates. This is also a good place to hire a scooter or bike. Asking at the Sea Queen just down the road (towards the sea) usually yields good results.

Be Aware

Taking the usual precautions will guarantee the huge majority of visitors a safe and comfortable stay. Keep an eye on your bags especially on the beach area. Avoid unlit/empty places especially if you are a solo traveller, and arrange rickshaws and taxis through the local establishments rather than flagging them on the road.
Female travellers will probably feel most at ease if they respect local customs and dress modestly, especially off the beach. Solo travellers should always keep their wits about them, and avoid situations that feel unsafe.
You will invariably be offered drugs of some description in Anjuna. Drugs offences are taken very seriously in Goa, and the quality of what you are being sold can be suspect. Random police searches and scams involving the police present further potential risks.
Anjuna beach is not good for swimming with rocks and dangerous undercurrents. Even strong swimmers should use caution.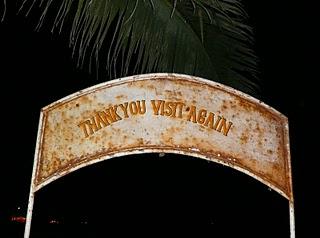 To chase the hippie vibe that used to permeate Anjuna beach until recent years, head up the coast to Arambol beach where a festival atmosphere and lively music scene are combined with bonfires on the beach, yoga at sunrise and plenty of Goa's own unique brand of hedonism.
We would love to hear all about your favourite Goa beach! Share your thoughts with our other visitors by clicking on the link.

More beaches in Goa...


---
Click here to leave Anjuna Beach and return to Travel India Goa Guide Home
Beaches Of Kerala - Goa Festivals - Goa Pictures - Vagator Beach - Keri Beach - Goa Guide