Travel Goa
India Travel Guide To Goa
Goa India Facts

Population of Goa (2010) 1.4 million

Capital City Panaji (Panjim)

Area 1,429 sq miles / 3,702 sq kilometres

Religion 65% Hindu, 26% Christian, 6% Muslim, 3% Other

Language Official language is Konkani, Marathi and English are widely spoken

Tourist Season Between November and March, but out of season travel is becoming more popular (see weather in Goa)
Why Go To Goa?




The smallest state in India, Goa has long been a magnet for holiday makers and backpackers from all over the world. Many arrive here aware of Goa's reputation for hedonism and all night parties. Though this is one aspect of Goa, it is far from defining it.
For the most part Goa is a rural state, with tourism largely confined to the coast. Landscapes shift between green paddy fields, coconut palms leaning towards wide, hazy rivers and hillsides punctuated by Goa's distinctive red laterite stone.
Small villages with colourful fish and fruit markets are shaded by gigantic Banyan trees. White-washed churches are set amid palm trees almost everywhere you turn. The Arabian Sea shimmers like mirage on the western horizon.
A relaxed attitude pervades in Goa India. Most visitors head straight to the beaches for which Goa is famous. Wherever you are on the coast you can guarantee that your day will culminate with a spectacular sunset. In the few minutes when the sun appears to sink into the sea, and the beach shack lights flicker on to mirror the emerging stars, Goa is at its most magical.


Goa India - The Highlights

Getting some wheels and exploring the coast and inland Goa, finding its undiscovered beaches, rural villages, Portuguese churches, crumbling forts and bustling markets.

Eating authentic Goan food or taking your pick from world cuisines in Goa's countless cafes and restaurants.

Shopping for local produce at the market town of Mapusa or searching for unique souvenirs at Anjuna's Wednesday market.

Joining in the celebrations at the Carnival or any one of Goa's vibrant festivals.

Lazy days sipping cocktails or fresh fruit juice on the sand, listening to the sound of the sea on the beaches in Goa.

Wandering around the 16th Century Hindu ruins and the hauntingly magical landscape of Hampi in Goa's neighbouring state, Karnataka.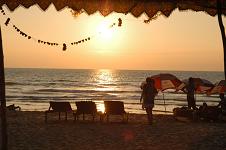 Orientation
Being a small state on the coast, Goa is easy to navigate and travel around - have a look at a map of Goa and you will see that a small spit of land divides the north from the south coastal areas.
Click here to see a Goa map in a new tab!
Zoom in twice on the map and you will see the location of Goa's airport,
Dabolim
. North and south Goa are easily accessible from here - you just have to decide which direction you want to head. Other common points of entry into the state if you are travelling by train or coach/bus are
Margao
and
Panaji
(Goa's capital). Panaji is to the north of Dabolim airport and Margao is to the south.
Exploring Goa

Travel in Goa India is relatively easy. English is widely spoken, though some Konkani phrases will not go amiss. Taxis are available from and to anywhere, and excellent bus routes make a good cheaper alternative. Many people however choose to hire a scooter or bike. This is an exciting way to explore inland and see some of Goa's beautiful countryside.
Away from the coast, visiting spice plantations, waterfalls, crocodile farms and tropical forests are some of many attractions. The lush paddy fields and the vivid greens of the palm groves make Goa's countryside exceptionally charming. Quiet villages give tantalising glimpses into Goan rural life, and there are probably more churches and temples than there are days in the year.
Goa's coast is a long chain of sandy beaches stretching out for mile after golden mile between Keri Beach in the north and Polem in the south. Some visitors to Goa choose one beach and keep on returning to it for years, others love to explore every nook and cranny of the coast and are always finding something new.
The towns of Goa are also worth exploring whether you are shopping in Panaji's broad, leafy streets or browsing the wonderful market at Mapusa. Catching the colourful Goa Carnival (see more Goa festivals) if you are here in February or March in any one of these towns is a must.
Goa's history is apparent everywhere you turn with its distinctive white churches and Portuguese influenced architecture. The historical Portuguese capital of Old Goa might make you question which continent you are in! Visiting the historical ruins at Hampi or the ancient pilgrimage town of Gokarna in Goa's neighbouring state of Karnataka will remind you that this is India - diverse, unmistakeable and unique.

Some of our favourite pictures of Goa are compiled in our our Goa India gallery. Do you have any great Goa pictures, or any Goa travel questions? We would be delighted for you to share them on our Goa India Facebook Page!


---
Return from Goa India to Home Page
Goa Map - Goa History - Goa Pictures - Goan Food - Weather In Goa - Goa Festivals - Konkani