Finding Cheap Flights To India
This page covers tips for finding cheap flights to India. We have also supplied a list of airports in India.
There is useful information on south Indian airports if you are looking for flights to Goa or Kerala further down the page.
Airports In India
India has four main gateways that land international flights. Several smaller airports also run international services.

The four main airports in India are:
Delhi [DEL] Indira Gandhi International Airport
www.newdelhiairport.in (++91) 011-25661000

Mumbai [BOM] Chhatrapati Shivaji International Airport
www.csia.in (++91) 022-26813000

Chennai [MAA] Chennai International Airport
www.chennaiairpot.com (++91) 044-22560551

Kolkata [CCU] Netaji Subhash Chandra Bose International Airport
www.calcuttaairport.com (++91) 033-25118787

Smaller airports also landing internatioal flights include:
Goa [GOI] Dabolim Airport

Trivandrum [TRV] Trivandrum International Airport

Cochin [COK] Cochin International Airport

Bangalore [BLR] Bangalore International Airport
Tips for Finding Cheap Flights to India
It is usually cheapest to fly to one of India's four main gateways and then take an internal flight to your destination. This is especially useful when travelling to Goa and Kerala (see more information below).
Online comparison sites are the best way to compare prices for cheap flights to India. When entering journey details on a price comparison website, experiment with dates to find the cheapest options. If are visiting over the Christmas period you can sometimes save money by travelling on holidays such as Boxing Day / New Year's Day etc.
It always pays to book long-distance travel well in advance.
Some cheap flights to India include stopovers. Price comparison sites let you specify if you want direct or non-direct flights. Stopovers, if they are reasonably short, can actually be a blessing, allowing you an opportunity to stretch your legs and get a good coffee and save some money on your ticket price.
Package holiday deals or charter flights can be very good value for stays of 2/3 weeks, and often fly direct to destinations such as Goa and Kerala. Package deals include accommodation and transfers. Check end-of-season options (April) and flight only offers.
Travel agents that specialse solely in India flights and holidays (e.g. Southhall Travel in the UK) can offer good options at competitive prices.
Flights To Goa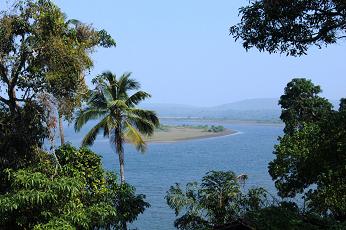 Goa's Dabolim Airport [GOI] is the only airport in Goa, and it doubles up as a military airbase. It is 29km from Goa's capital, Panjim. Terminal 1 handles domestic flights and Terminal 2 covers international.
International flights arrive in Goa from London, Manchester, Moscow, Warsaw, Zurich, Frankfurt, Amsterdam, Gothenburg, Oslo, Stockholm, Sharjah, Dubai, Kuwait and Doha. Flights from some European / Russian cities are seasonal.
Package holiday options often use flights direct to Goa, or include a transfer in Mumbai. Since these deals include accommodation, they can represent very good value for shorter stays. The downside of these cheap flights to India is that you might have
no leg-room as these flights are often very cramped.
If you are booking independently to Goa, it is usually cheaper and more comfortable to fly to Mumbai, and then get a connecting flight to Goa. Domestic flights can be booked ahead of time online - usually the cheapest option - or on the day of departure at the airport. The flight from Goa to Mumbai takes about 1 hour, and snacks can be bought on board.
Flights To Kerala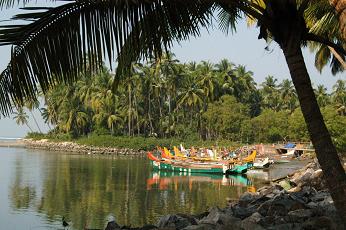 Trivandrum Internationl Airport [TRV] is 4 km from Trivandrum, Kerala's capital city. Trivandrum is in south Kerala and is ideal for access to the popular beach destintions of Kovalam and Varkala.
International flights enter Trivandrum Airport from destinations including Abu Dhabi, Jeddah, Kuwait, Dubai, Kuala Lumpur, Singapore, Malé, Colombo, Bahrain, Doha, Sharjah and Muscat. Internal flights arrive/depart daily from Delhi, Mumbai, Goa, Chennai, Hyderabad and Bangalore.
Cochin International Airport [COK] is 28km north-east of the central Kerala city of Kochi/Cochin gateway to the backwaters of Kerala. It is the fourth busiest airport in India in terms of international flights. Domestic flights also operate
to all major Indian cities.
Many international flights into Cochin originate from the Middle-East, perhaps due to the high number of Keralans working in this area. Other destinations are in south-east Asia. Domestic flights fly frequently between here and Mumbai.
Got your flight? Have a look at our visa requirements page.

More India tourist information for travellers to India.


---
Click here to leave Cheap Flights To India and return to Travel India Goa Guide Home

Getting Around India - Road Map Of India - India Tourist Info - Kerala Pictures - Indian Weather