Kovalam Beach Resort
Kovalam beach resort has been popular with tourists since the '70s when it was a sleepy Keralan fishing village. Today it is Kerala's prime 'package holiday' destination, and subsequently the main beach, Lighthouse beach is lined with restaurants, bars and shops. Prices can be fairly high, since many of the people here are grabbing their two weeks in the sun and feel justified in splashing out.
Lighthouse beach is where most of the action takes place - it is a beautiful curved beach with fine sand and shimmering water. A walkway follows the line of the beach and restaurants, cafes and bars all look out towards the abundant blue of the sea.
Orientation

Two coves form the main Kovalam beach resort, Hawah beach and Lighthouse beach to the south. The NUP Beach Road ends almost in the sea between the two coves. To the north of Hawah beach, over the headland is quieter Samudra beach.
Lighthouse beach is also accessible from the north side via a steep pathway off NUP Beach Road or from the south from Lighthouse Road. The large red and white lighthouse at the south end of Lighthouse beach is a good point of orientation.

Enjoy Kovalam Beach Resort

Explore behind the scenes On Lighthouse beach, behind the facade of shops/restaurants, narrow lanes form a tangle that backs onto the rice paddies. Small painter's shops, souvenir boutiques and restaurants make this an interesting place to get lost in.

Get a bird's eye view Climbing up the spiral staircase of Vizhinjam Lighthouse on (funnily enough) Lighthouse beach gives wonderful views of the coves and surrounding coast. Share your lofty position with the Brahminy kites that circle here.

Explore the coast If you walk to Samudra beach and follow the shore north, you will find a much quieter coast than that of Kovalam beach resort. Fishing boats, a mosque and a temple in a traditional Keralan village give a glimpse of how Kovalam must have been before its development.

Get a tan It would be a crime not to.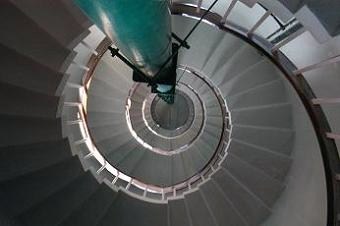 Transport

Kovalam is just 16 kms from Trivandrum and most visitors to Kovalam fly/train it to Trivandrum, and then get a bus/rickshaw/taxi on to Kovalam. Trivandrum, being Kerala's capital, is well connected to other Indian towns and cities.
Buses to Kovalam beach resort leave from Trivandrum's East Fort bus stand. Buses to Trivandrum from Kovalam (30 mins) depart from the entrance to the Leela Hotel on Samudra Beach every 20 minutes or so. Other buses include 3 to Ernakulam (for Kochi, 5 and a half hours), Kallambalam (for Varkala, 90 mins), Alleppey, Kottayam and Kollam.
Rickshaws and taxis can be expensive compared to less touristy areas of India - expect to pay around R.300 for a taxi between Trivandrum and Kovalam, and perhps half that for a rickshaw. Of course, during the peak season of December/January you may well pay considerably more. Pre-paid taxis go to Kovalam beach resort from Trivandrum Airport for about R.300-R.350.
Accommodation

Prices in Kovalam are high, and upmarket resorts are gradually replacing much of the budget accommodation that used to exist here. If you want to stay on the main beach, or want luxury accommodation it is worth booking ahead online. The Leela Hotel on Samudra beach is at the top of the 'luxury' scale.
Budget options remaining in Kovalam include Hotel Holiday Home (south side of Lighthouse beach, just off the beach) and Dwaraka Lodge (between Hawah and Lighthouse beaches, on the shore). We stayed in Shamna House on Samudra beach paying R.500 for a good room with a huge balcony and small kitchen. Samudra beach is quieter than its neigbours but not quite as pretty.
About 8km south of Lighthouse beach some luxury accommodation options exist at Chowara and Pulinkudu. Expect to pay in excess (sometimes far in excess) of R.3000. Many places offer Ayurvedic treatments. Likewise, north of Samudra beach, similar options are available.
Eating

Walking along the sea front at Lighthouse beach gives plenty of options for food at any time of the day. Prices and ambience vary slightly, choose a menu and location that tickles your fancy and sit back to enjoy good food with a view of the sea. If you fancy a coffee try the German Bakery (Waves). It is a little pricey but the decor is great and it serves coffee from the Keralan Nilgiri Hills in Wayanad area.
For more authentic Keralan/Indian food, try Suprabhatham in the lanes behind Lighthouse beach or Devi Holiday Inn on NUP Beach Road. Continue along this road bearing left towards Samudra beach and you will see several small Punjabi places - the one across the road with open-air seating serves huge, delicious (and cheap) thalis.
Continuing north from Samudra beach and crossing the headland takes you to a less developed beach where we ate, wishing we had found it sooner. The tables are set along a low wall right on the shore. The food was not hugely memorable, but the location was great and the waiters were genuinely friendly - in the main resort the service is sometimes a little brisk.


Practicalities

There is a tourist information centre and post office near the bus stand outside Leela Hotel on Samudra beach.
ATMs, small supermarkets, a hospital and the police station cluster at the NUP Beach Road junction where the road divides towards Samudra and Kovalam town.

Money change and travel agents line the beach front. Compare prices to find a good deal.

Be aware

Take usual precautions when in the sea, i.e. between the flags (esp. weak swimmers as currents can be strong) and not if drunk.

Theft sometimes occurs here. Lock your door with your own padlock, making sure windows are secure - do not leave valuables alone on the beach.

On a couple of occasions, items were added to our food bill, or we were charged more than on the menu. If this happens, mention it to the waiter or take it from the tip.

People beg for money in Kovalam beach resort and it is a personal decsion whether to give - if you do not feel comfortable with it supporting it but want to help, consider donating to a charity, or offering food.

Kerala is one of the most beautiful states in India, but many visitors only see its coastline! If you want to explore inland, have a look at our pages on hill stations, wildlife sanctuaries and backwaters in Kerala.

Find out more about the beaches of Kerala.


---
Click here to leave Kovalam Beach Resort and return to Travel India Goa Guide Home

Trivandrum - Varkala Beach - Kerala's Houseboats - Cheap Flights - Kochi - Beaches In Goa