Travel To Kerala
Discover India's Greenest State
Kerala Factstravel to kerala

Population of Kerala (2001 census) 31.8 million

Capital City - also the largest city - is Thiruvananthapuram (Trivandrum)

Area 15005 sq miles / 38863 sq kilometres

Religion 56.2% Hindu, 24.7% Muslim, 19% Christian, 0.02% Other

Language Official language is Malayalam, Hindi and English are widely spoken

Literacy (2001 census) 91% - the highest in India and now believed to be close closer to 100%


This guide on travel to Kerala covers the major attractions, such as exploring the shimmering backwaters, finding a perfect beach to relax on or visiting historical Fort Cochin.
We also cover Kerala's less 'well-known' attractions, such as the wildlife sanctuaries and hill stations of the Nilgiri hills and Western Ghats mountain range.
There are essentials, such as information on the capital of Trivandrum and a few Malayalam phrases (Kerala's native language). There is a guide to Keralan food and Kerala's festivals, and an insight into Kerala's history and culture.
In each area we recommend places to stay, things to see and useful travel tips based on personal, first-hand experience. We have also included an interactive map of Kerala (to get your bearings) and some of our own Kerala pictures (to inspire you to travel to Kerala!)
Why Travel To Kerala?
In the far south-west of India, lying between the Arabian Sea and the Western Ghats is the lush, tropical and prosperous state of Kerala.

Most visitors to Kerala are primarily attracted to the states huge network of backwaters - lakes, rivers and canals that lie amid tropical vegetation and green paddy fields, and earn Kerala the nickname, 'God's Own Country'.

Another big attraction are Kerala's beaches, where the warm Arabian Sea joins the palm-fringed coast with a hem of golden sand. Between October and March temperatures on the coast rarely fall below 28 degrees the sky is almost invariaby blue or lit at evening by vivid sunsets.
Kerala's Climate

Kerala has a tropical climate cosisting of three seasons. Temperaures are generally cooler in the hills and hotter on the plains.

Spring: February - May, average temp. 24C-34C

Monsoon: June - September, average temp. 20C-30C

Winter: October - January, average temp. 18C-28C

A dream of floating on the serene, sylvan backwaters, and tales of glorious sun-drenched beaches were what drew me to travel to Kerala for the first time. It was not until my second visit there that I disovered there was far more to this beautiful state than these initial (although very alluring) attractions.

As you leave the coast and the shimmering backwaters behind and head inland, Kerala's landscape begins slowly unfolding into low, forest-clad hills, dense jungle that is home to elephants, bison and tigers, and endless miles of green farmland and plains.
Suddenly the land rises as you approach the towering Western Ghats. These
mountain regions
form the 'roof' of Kerala and, often cloud covered with some rising over 2500m, feel like a hidden secret. Coating their slopes, at times as far as the eye can see, are Kerala's tea and coffee plantations.
Once in the Western Ghats, the border to Tamil Nadu, Kerala's neighbouring state, is always close and some of the most beautiful scenery of the Western Ghats range can be seen here.
It is unsuprising to discover that Kerala has been visited by travellers for centuries, from Portuguese traders or Dutch settlers to Muslim merchants and Syrian Christians. The influence of these visitors and settlers can be seen in the architectural styles of many of Kerala's buildings, most notably in Fort Cochin, and the state's history is a fascinating one.
Rather than being absorbed by this range of influences, Kerala's culture remains unique and strong. All over the state are signs of an ancient culture that continues to survive in the 21st century, and every so often, such as during one of Kerala's festivals, explodes into view.
Travellers often find Kerala to be India's most laid-back state, and aquire an irrisistable desire to take their time here. There is a lot to savour. Keralan food with its subtle mix of spices is best sampled in the popular 'banana-leaf' thalis, where several small dishes are served with rice on a banana-leaf plate.
Travel to Kerala and you will find that the place makes a big impression on you however much you decide to do. Needless to say, it did with us and with all the people we met on our travels there.


Travel to Kerala - The Highlights

Wander through the old Dutch houses in the historic island town of Fort Cochin.

Soak up the sun on the golden sands of Varkala beach. Cool down with a Kingfisher beer from a restaurant on the clifftop and look out for dolphins.

Wake up above the clouds in nearby Tamil-Nadu's hill-station of Kodaikanal.

Float gently down the stream and spend a night in a traditional Keralan houseboat.

Eat as much as you like, Keralan-style, on one the state's famous banana leaf thalis.

Buy some fresh masala tea from Kerala's picturesque tea growing regions of Wayanad or Munnar.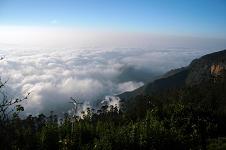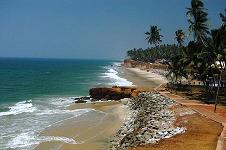 Explore Kerala
Kerala is a wonderful state to explore. We were lucky enough to see a lot of it while travelling by Royal Enield - a classic motorcycle produced in India. Taking to the roads (by bus or private vehicle) is essential in some of Kerala's hill-stations and of course in the backwaters regions you will invariably find yourself on a boat.
Our site contains first hand information on travelling in Kerala with great advice on transport and getting around. We highlight the things not to miss, and reveal some hidden gems in terms of places to stay and places to eat. The site is full of useful tips that we only ever found out once on the road!
One of the best ways to see Kerala and experience the friendliness of its people is to explore on foot, and in this guide we also recommend walks that we have enjoyed and the places we have found that are a little off the tourist routes. We really hope you enjoy browsing!


If you are travelling to Kerala our guides to Trivandrum and Fort Cochin (common entry points to the state) will give you lots of useful informtion on airports, arrival, orientation and travel from these cities. Of course we have also provided many tips on what to see, and reviews on places to eat and places to stay.

---
Click here to leave Travel To Kerala and return to Travel India Goa Guide Home

India's Domestic Airlines - Trivandrum - Fort Cochin - Kerala Map - Kerala Gallery - Goa Guide