Travel Guide To Backwater Kerala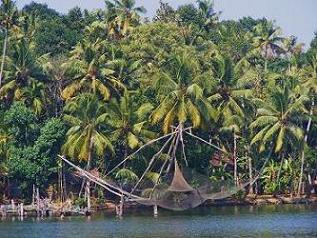 The backwater Kerala region is perhaps Kerala's most popular tourist attraction. Miles of great lakes, winding rivers and narrow canals clothed in tropical vegetation and graceful palm trees stretch out behind Kerala's coast.


Popular backwater destinations include the towns of Alleppey, Quilon and Kottayam, and these are good places to organise houseboat trips or river cruises from. The impressive snake boat races of Alleppey attract many visitors each year (read more on our Kerala festivals page).
There are plenty of options for travel in backwater Kerala, with the grand floating hotels of the houseboats (modelled on old rice barges) being the most luxurious. Alternatives include river cruises on ferries, canoes and small sightseeing boats.
This guide covers Kerala's backwater regions that are developed for tourism (some more so than others!). It is divided into districts of Kerala, north to south.


North Backwaters of Kerala - Kasaragod to Thrissur States
Kasaragod In the northern most district of Kerala, several undeveloped backwater Kerala regions lie well off the tourist route. A few low-key houseboat trips and boating tours are available at Chandragiri (4km south east of Kasaragod town) and in the Valiyaparamba Backwaters (30km from Bekal). This unspoilt area of backwaters offer scenic routes without the crowds. Trips are organised by the Bekal Resorts Development Corporation (Bekal Boat Stay) and visitors can travel between Kottapuram and Kannur.
Kozhikode Almost untouched by tourism (as of yet) the backwaters at Elathur and Canoly Canal, 10km north of Kozhikode, and the Kallayi river are areas with some boating and cruising options.
Accommodation in undeveloped northern Kerala is harder to find than in the tourist areas of the south. You may wish to book ahead online, or approach tourist centres on arrival.
South Backwaters of Kerala - Ernakulam to Trivandrum States
Ernakulam
Kochi
in Ernakulam district is a great place to organise houseboat trips from, with many choices covering various routes and options. There are many tour operaters centred around Fort Cochin, or book reasonably priced day trips on a houseboat from the tourist desk at the Main Boat Jetty in Ernakulam.
Kottayam A little inland from the coast, Kottayam town is well connected to the backwaters, and houseboats can easily be organised from here into the surrounding Kuttanad region. Kottayam is often used as a stop over for people visiting nearby Kumarakom or as a departure point for river cruises.
Kumarakom is a traditional village set on the banks of the Vembanad Lake (the largest freshwater lake in India) which is fed by a network of shimmering rivers and canals. The area is dotted with islands, and the Kumarakom Bird Sanctuary is nearby where one can spot white ibis, egrets, heron, osprey, steppey eagle and many more. Ayurvedic resorts are popular at Kumarakom. Vembanad Lake becomes very busy during the Onam Festival when snake boat races take place.
The Kottayam district's backwater areas are dotted with picturesque small villages and islands, and boats can be easily arranged between them, making it a great place to explore.
Alappuzha Sharing the Kuttanad backwater area with Kottayam, Alappuzha is a prime backwater destination. Farming in this region is done below sea level and the area is interspersed with green paddy fields among networks of glittering waterways. The famous Nehru Snake Boat Race festival takes place at Punnamada on the 2nd Saturday of August every year.
Visitors can enjoy a boat trip to Pathiramanal Island (translated as 'sands of midnight'), 1 and a half hours from Alappuzha town, or the Munroe Islands where various bird species can be seen.
The town of Alappuzha is the most popular area for organising houseboat trips, as well as cruises into the surrounding backwaters. The seaside town sits on a network of canals, and the 8 hour river cruise to Kollam can be arranged from here.
Kollam The start of the popular backwater Kerala region if approached from the south, Kollam town is situated on the Ashtamudi lake where trips into the waterways can be arranged through the Kollam Boat Club.
In Alumkadavu (28kms north of Kollam) visitors can watch the kettuvalloms being constructed. From Kollam town there is easy access to Munroe Island, and a popular cruise departs from here to Alappuzha.
Thiruvananthapuram (Often referred to as Trivandrum.) The Thiruvallam backwaters lie 6kms south of Trivandrum city and are growing in popularity as a tourist destination. Here the Killi and Karamana rivers meet, and visitors can orgnise houseboat trips, boating facilities and yoga retreats on a stretch of the backwater Kerala that is quieter than many other areas. Traditional fishing villages, water birds and tropical greenery abound!

Kerala is famous for its backwates and beaches, but to get off the beaten track, Kerala's hill stations are stunningly beautiful, and not yet touched by large scale foreign tourism.


---
Click here to leave Backwater Kerala and return to Travel India Goa Guide Home

Kerala's Festivals - Malayalam Phrases - Map Of Kerala - Pictures Of Kerala - Kochi City Guide