Experiencing India
On a Royal Enfield Motorcycle
How it all came about...

Riding a Royal Enfield Motorcycle has be a dream since my first trip to India 7 years ago, I have always wanted to ride a Royal Enfield Motorcycle through India. I was incredibly surprised at how little and often contradicting information there was available.

We will hopefully be able to shed some light on a few of the grey areas sent to challenge us when trying to live our dreams. Here you will be able to trawl through the history of the Royal Enfield and work on getting familiar with the Royal Enfield, so you will know exactly what you are getting into.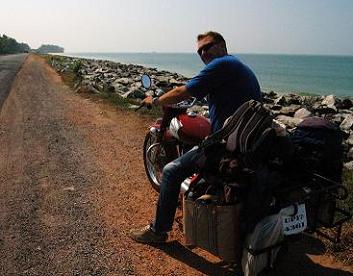 Contents
We will give some details on buying and selling an Enfield. We will also compare the pro's and con's of renting and buying.
Royal Enfield paperwork can and always will be an issue for foreigners. Here we explain what ownership documents should be obtained and what is needed to drive legally on the road. Getting the paperwork right will help you get your money back when it comes time to sell. We will also be covering the insurance obstacle.
If you fall in love with your Royal Enfield motorcycle as most of us do, and decide to ship your precious bike back home, we have included some tried and tested agents that can help you with your cargo.
If you plan to ride your Enfield back, we can give you a few pointers in the right direction.

Travelling around India can be a great adventure by any one of the various modes of transport available. But nothing, and I really do mean "nothing" will beat the Royal Enfield Motorcycle experience.
Driving from north to south can be daunting for even the most hardened biker, so putting your bike on a train could be an option, also great for those those who wish to travel quickly or have limited time to cover great distances.
Meet Jolene, Our Bullet 350cc (2000)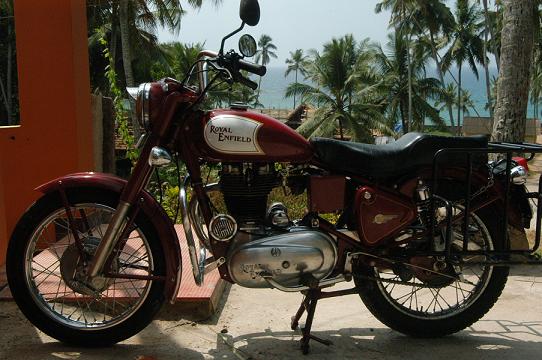 Planning you Royal Enfield Motorcycle Journey
Finding Your Royal Enfield Motorcycle
First and foremost, the bike. This will take up the majority of your time. Finding the right bike is always daunting, especially if you riding in India for the first time. My tips - never rush, don't buy the first bike you see, always challenge the price (one man's deal is another man rip off) and always get a second opinion.More on the buying Royal Enfield page.
Getting Around
Finding an accurate map of India is a challenge in itself. We have seen so many maps and all of them have different roads on them. The main highways are always shown but the back roads are either inconsistent or missing. Check out our road map page for more tips on maps.
Planning Ahead
Get an idea of which places you "must see" and roughly plan your journey around them. Your trip will never go according to plan, and you will always find and hear about new places that will tempt you to deviate from the planned route. To me that's the joy.
We always have a final target i.e. on our last trip we wanted to get to the tip of India, Kanyakumari. We had planned to go through Munnar and ended up going to five hill stations. But we did evenually get to the tip of India, and had a fantastic time!
It always pays to go over and check your planned journey the day before you leave. Ask locals for road closures and better roads. Locals want to avoid the buses and trucks just as I did!
Click here to find a lot more tips on driving on the Indian roads!

What Will You Need?
Helmets and Safety gear - In all major cities it will be compulsory. Some states are more flexible than others, but we would seriously recommend always wearing a helmet, passenger included. Helmets can be bought everywhere in India due to the goverment really tightening up on road safety. The helmet quality is not to the standard you get in the EU/US. Don't want to take a chance, go to a specialist bike accessories store and get a helmet before you leave. Important: always get your helmet fitted!

Leathers and boots are really your choice. We haven't seen many people wearing leathers unless they were on an organised tours, but that's no excuse! We would recommend leathers and boots especially if you have not ridden in India before.

Pollution protection - Pollution on the roads in India is thick and will leave you short of breath. We recommend that you buy a decent pollution mask prior to going to India. They are available in India, but the standard is not fantastic.

Tools and Spares - "Better safe than sorry." For a full list of tools, spares and accessories that we would recommend you taking, click here!!

Luggage Racks - Getting some good strong luggage racks is always worthwhile. Gives you the freedom you need to travel the hazardous roads of India. Any good mechanic will have some lying around and most bikes that have been owned by travellers will have them fitted already.
Want to see our journey, and the places we visited?
Click here!
---
Click here to leave Royal Enfield Motorcycle and return to Travel India Goa Guide Home

Road Map of India - Travel Insurance - Buying Royal Enfield - Hill Stations - Kerala Beaches - Goa