Buying Royal Enfield in India
My experience - Buying Royal Enfield


Owning and riding a Royal Enfield motorcycle in India is one of the greatest experiences of my life. I bought a beautiful 350cc Bullet (2000) and travelled around south India for a few months.
After looking around on the internet and speaking to the locals in Goa, I found little and very varied information available. So I have decided to share my learning and experience with you.
If you have any questions about buying Royal Enfield, or any other aspect of riding one in India, please feel free to ask them on our Blog.


Which Motorcycle to Buy in India? For Me It has to be a Royal Enfield.

Why the Royal Enfield Motorcycle is perfect: it is a work horse, has loads of torque, and is ideal with its heavy frame for carrying a passenger and solid luggage racks. Enfields are good on bad roads and take the common Indian pot holes very well. The torque comes in handy to get up those hills, especially if you planning to do the hill stations of the Western Ghats mountain ranges, even if it is at a max of 40KPH (seriously).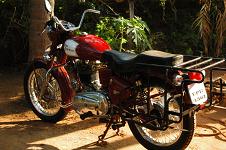 "The Good"
The Enfield is a beautiful, classic motorcycle. I have never ridden a bike with so much character, charisma and charm. Yes, they can be frustating. You let go of all the mod-cons and go back to the pureness of an open road, and who can argue with that? You ride an Enfield for the passion and the romantic adventure.
My tip would be buying Royal Enfield right the first time. Don't take anyone's word for it, buy from a known dealer or mechanic and go with your gut. Lots of mechanics are buying Royal Enfield bikes for nothing from foreigners desperate to sell, (normally cheap due to not having the correct paperwork) and reconditioning them for resale. I will cover paperwork and a list of a few dealers I have crossed paths with, as well as some reliable mechanics.
Luckily I bought well and the only issue I had was changing the points, the rest was standard maintenance. I will give a breakdown on these pages.
"The Bad"
Enfields may look unbreakable, but they are notoriously unreliable. After every long ride all the engine covers will leak oil, such as from the clutch plate, tappet adjuster cover, gearbox logo plate, oil filter nuts, sump nut e.t.c. Every mechanic will say it's normal for an Enfield. As I kept being told, if it is not leaking oil, there's no oil in it!
So general maintenance is a must. After every long journey, tightening up all the nuts and bolts once the bike has cooled down will keep the power. I sent my bike in for a once over every 1000km (chain adjusted, check the tappets) and a full service every 2000KM.

"The Ugly"
I am completely converted, with Royal Enfield now in my blood, but feel it is only fair to share the other options available. So reluctantly, as an alternative there are an increasing number of options for touring bikes in India for rider and passenger. With the increasing middle-class in India, more companies are offering larger bikes such as Bajaj 220cc, Yamaha 250cc and Karisma 250cc which are becoming very popular. These bikes are becoming trendy with most Indian people not wanting to own an Enfield, to run a cheaper option especially in the city, as Enfields are heavy and expensive.
"The Lone Rider"
If you travelling on you own and have no passenger I would probably recommend a Honda. Honda is now wide spread in India. Dealers have now opened up in all major cities and large towns. The Honda is inexpensive to buy, reliable and very cheap to run with its added acceleration and mod-cons such as a fuel gauge (which Enfields don't have), electric start, trip meter and disk brakes. Although the new models of Royal Enfields do have lots of mod-cons, it's not the same.
Very few riders take this option but it is getting more common. And I have to say they are easy to ride and much lighter.
"The Verdict"
You don't buy an Enfield for the practicality, you buy one for the adventure of riding a classic bike and having a unforgetable experience in India.

If you are considering buying Royal Enfield, read about our journey in India by clicking here.

Read more about travel in India on a Royal Enfield motorcycle.


---
Click here to leave Buying Royal Enfield and return to Travel India Goa Guide Home
Kerala Hill Station - Backwaters of Kerala - Getting Around - Kodaikanal Hill Station - Beaches In Kerala