Indian Weather
When Is The Best Time To Travel In India?
Information on Indian Weather
Indian weather is hugely varied because of the country's many climatic regions. These broadly consist of desert in the west, glacial and alpine areas of the far north, to the tropical and humid regions of the south.
Four seasons affect the country - the cooler months of winter in January and February, a hotter season from March to May, the monsoon ranging from June to September and the warm, post-monsoon period between October and December.
Temperatures north to south vary extremely and north India often remains cool or cold in winter months while the south can become very warm.
The monsoonal rains sweep in from the Arabian Sea and the Bay of Bengal, with the first point of contact being the Andaman and Nicobar Islands in late May. The Malabar Coast of Kerala is the first area of mainland India to recieve the rain by the beginning of June. About a week later it hits Mumbai and travels north, reaching Delhi before the end of the month. At the beginning of July the entire country is affected. The monsoon finally retreats from the north come late August, is gone from Mumbai by early October, and steadily weakens in the south. A second, shorter monsoon affects some areas of south India between October and November. By the end of November, the monsoon has gone.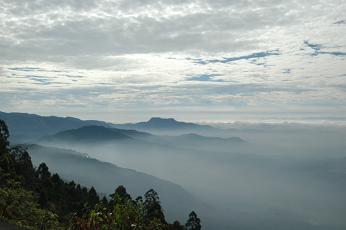 Extreme Indian climate - the lowest recorded temperature was -45C in northerly Ladakh, and the highest 50.6C in Alwar, Rajasthan.
The hot and sunny climates of Goa and Kerala from November to March are perfect for escaping the cold and getting some winter sun! Follow the links to find out what the weather is doing in
Goa
and
Kerala
and browse our travel advice, pictures and guides.
More useful and entertaining
facts about India...
---
Click here to leave Indian Weather and return to Travel India Goa Guide Home

India Tourist Information - Population Of India - Getting Around - Goa Pictures - Kerala Pictures