Finding The Best Place To Stay In Hampi
There are plenty of great places to stay in Hampi, and though many travellers opt to stay in nearby Hospet (where the train pulls in), those that make it on to Hampi are rewarded by a quieter and far more atmospheric stay amid the stunning landscapes that make Hampi so unique. Staying in Hampi, visitors may also forgo the daily drive-in-to-see-the-ruins that people remaining in Hospet must face.


If you stay in Hampi or Virupapuragadda (just across the river) you will find basic accommodation options, mainly suited to backpackers. Even though Hospet has some more up-market hotels, the town itself is noisy, dusty and in my opinion, generally not worth it!
Staying in the Village of Hampi
In the shadow of the Virupaksha Temple, the small village of Hampi is a jumble of narrow streets, market stalls, rooftop restaurants and slightly ramshackle houses, many of which have been converted into guesthouses. Here you are perfectly placed to observe the early morning activities at the temple, or take a climb up Matanga Hill in time for sunset. A beautiful walk north-east downstream along the banks of the Tungabhadra River will take you to the Vitthala Temple.
If you decide to stay in Hampi, bear in mind that there is only one ATM in the village and it is notoriously unreliable. You may want to take enough cash to cover your stay, since the round-trip to Hospet is a gruelling one. A bus to Hospet leaves from just outsie the gates into the Main Bazaar.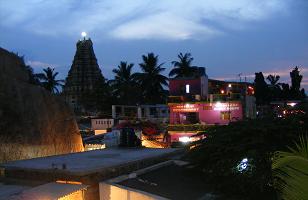 Asking around at a number of guesthouses, inspecting the rooms and negotiating a deal is the usual way to find accommodation in the village of which all, it can be said, is in the budget range. Garden Paradise at the north-east end of the village is situated right by the river, and as well as offering huts to stay in, there are several beds under mosquito nets, open to the stars! Shanti Guest House is a basic but reliable opion, right beside the Virupaksha Temple Tank. Just behind, in the lanes, Gopi Guest House offers ensuite rooms and a rooftop restaurant.
Small cafes are dotted along the Hampi Bazaar offering lassis, soft drinks and south Indian fare. Within the village, restaurants cater to the tourist crowds and can be a bit hit and miss. There are some excellent establishments to be found, and some that are less memorable. Most restaurants here are on the roof - look out for Ravi's Rose for spicy Indian food or Suresh for good momos. There is an alcohol ban in Hampi village since it is a holy site, though many places will serve surreptitious beers on request.
If you are not going to stay in Hampi but want to be in the area, consider crossing the Tungabhadra river (a small coracle crosses from the Sacred Ford behind the Virupaksha Temple) to Virupapuragadda. A cluster of guesthouses, restaurants and market stalls cater for backpacking tourists, many of whom are long-stay. The buildings are more sparse than in Hampi village and are surrounded by boulder-strewn landscapes and green paddy fields.
If you stay on this side of the river there are some great walks to be had - perhaps the most exciting is up to the Hanuman Temple on Anjenaya hill. If you are exploring south of the Tungabhadra, bare in mind that there are no coracle crossings back to Virupapuragadda after sunset.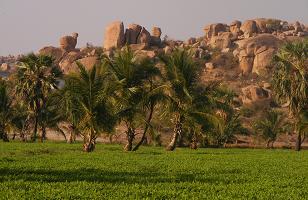 The popular Goan Corner is situated amid the paddy fields north-east of the coracle crossing. It has a pleasant cafe and basic huts, some with attached bathrooms. There are many huts for rent on this side of the river and restaurants tend to be shady and at ground level. Look out for Sai Plaza for its attractive garden, or Umashankar Lodge for hot showers!
In truth, accommodation and restaurants are much of a muchness in Virupapuragadda, all well suited to the slow pace of life that backpackers in India so readily adopt!
For those who do not want to stay in Hampi, nearby Hospet offers some slightly more upmarket accommodation options and generally higher quality restaurants.
Probably the best option in Hospet is Malligi Hotel, with its economy or luxury rooms, swimming pool and two restaurants. Waves, the rooftop bar/restaurant, is a great place to come for a drink and refreshments irrespective of if you are staying at the hotel.
If you are after a/c rooms, TV and a beer garden, you may want to try Priyadarshini on MG road, between the bus stand and the railway station.
Travel in to see the ruins by taxi which your hotel will no doubt happily arrange for you, or by hiring a rickshaw which ply the streets around Hospet. There is also a cheap public bus to Hampi which leaves from MG Road, south of the train station.


Want to see more of south India's magical landscape? Kerala's emerald green hill stations, set among the Western Ghats mountain range are remote and spectacular.

Read more about travel to Hampi.


---
Click here to leave Stay In Hampi and return to Travel India Goa Guide Home
India Travel Forum - Recommend A Homestay - Beaches In Goa - Kerala Backwaters - India Map