Baga Beach
Beginning at the mouth of Baga Creek, Baga beach sprawls south, a mass of sunbeds, sellers, shacks and holiday makers until at some inperceptible point it becomes Calangute, the adjoined beach to the south.

Visitors to Baga (unless they come out of season when even the shacks are packed away) will not escape the crowds and they will not have miles of empty beach to themselves. If, however, they are prepared for these certainties and are willing to approach the place with an open mind, they may well find that Baga, along with all the other Goan beaches, has its own unique appeal.

Visitors who are loyal to one shack on Baga beach will find that their hosts warm and receptive, and welcoming year after year. Despite comparisons made between Baga and over popularised European beach resorts, shacks are limited to the number of sunbeds that they can acquire, and supply often outweighs demand.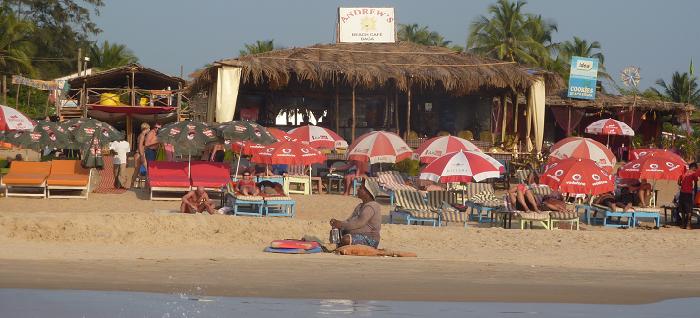 Baga Beach Highlights

Good Food Due to fierce competition between beach shacks, food quality is often very high. Look out for barbecue nights, when the freshly caught fish is grilled under the stars. There are also some excellent (but expensive) restaurants behind the beach along Tito's Lane and off the main road leading to Calangute. Try the Indian Cafe for authentic south Indian food.

Baga Creek Colourful fishing boats and a quieter atmosphere give the north end of the beach a more 'Indian' feel. Heading inland and crossing the creek (towards Arpora) takes you past some small, rural hamlets that seem miles away from the busy shore.

Visit Tito's Love it or hate it, Tito's on Tito's Lane is probably India's most famous nightclub. Dance until the small hours in peak season (Nov. and Dec.) but be prepared to shell out a hefty entrance fee. Mambo's also on Tito's Lane is a popular alternative.

The Beach If you are in the mood for sunbathing, relaxing, enjoying a cold drink and having the occasional dip in the sea, Baga beach will tick all the boxes.


Choosing A Beach Shack
Choosing a beach shack can be difficult, since there are so many to pick from. Most (if not all) offer free sunbeds to customers, though you will be expected to buy at least a few drinks.
You will be approached as you pass every shack. If you are new to the area, try a few to see which you like. If you are a returning visitor you will have probably chosen your favourite. Staff are very accommodating to returning visitors. Our favourite is Andrew's Shack which is one of the oldest returning shacks on Baga beach.

Staying In Baga

Many visitors to Baga are on package tours and will be staying at hotels in Arpora or Calangute, or will be returning visitors with regualar rental arrangements.
If you plan to stay in the area, it is well worth booking ahead, since hotels fill up quickly, especially around Christmas time. If you have nothing arranged, try crossing the creek into nearby Arpora, or searching around Saunta Waddo (north end of Baga village) and around Tito's Lane. Rates are quite high for Goa. For good value, try Angelina off Tito's Road, or Joanita off CSM Lane.

Getting There / Around

Buses run between Calangute and Baga every 15 minutes (5 minute journey), though it is a walkable distance. There are also frequent services from/to Panjim (Goa's capital) and Candolim.
Taxis and rickshaws are easy to arrange, and you can talk to drivers yourself, or ask your hotel / beach shack to call one for you. Prices may be disproportionately high for Goa, but that comes with the territory. Suggesting a lower price than the initial quote will let you know whether the price is negotiable. It almost always is.
If you are driving or riding, access Baga from the north by crossing the Baga Creek bridge and bearing left at the juntion. A busy road lined with stalls (Baga Road) will take you through Baga towards central Calangute. Turning right off this road you can access Tito's Road or CSM Lane.

Practicalities

Find ATM's, supplies and travel agents in nearby Calangute. There is an internet cafe on Tito's Lane, and you will find plenty of shops and cafes seling refreshments.
For bike hire, head to nearby Anjuna where you may get a cheaper price. There are also several ATMs in Anjuna if you don't fancy hectic Calangute.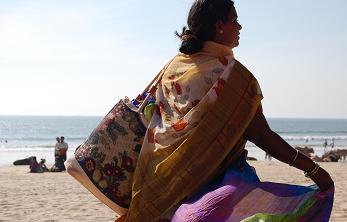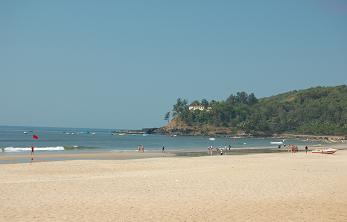 Be Aware

Though the sea itself is pretty safe for swimming in, the jet skis whizzing around the coast present a significant problem for swimmers. Only swim within flagged areas, and do not go too far out.
You will encounter sellers on Baga beach. A lot. You will also encounter beggars, masseurs, hotel touts, gymnasts, tight rope walkers and more sellers. Anything from fruit, to jewellery, pens, books, shells, DVDs, crystals, ice creams, clothes, bedspreads... the list goes on. A warning - the constant selling will probably get to you at some point on your visit. If you are not really interested, do not encourage people by looking at their wares, or by promising to look another day. They will be back, and it will be even harder to refuse.
Young children do a lot of the selling, as well as the performances and begging. It is a personal decision whether you choose to pay children - the fact remains that while they are earning money on the beach, they will not be going to school.
If you decide to buy, always negotiate on the price. The first price quoted will often be way above the value of the item, and if you pay it without question, you will be targeted relentlessly for sales when word gets around. Even if you pay a fair price, other sellers will gather to try their luck.
Female travellers, especially young / single women should avoid getting into inane conversations with unknown Indian men. There is an ulterior motive 99.9% of the time. Swimming in the sea alone may attract unwanted attention and walking the beach at night alone is not generally advised.


If you are spending your holidays at Baga beach, you are in a perfect location to explore Goa's beautiful coast. Have a look at our guide to the beaches in Goa for some inspiration! Let us know what you found by telling us about your favourite Goa beach!

More beaches in Goa...


---
Click here to leave Baga Beach and return to Travel India Goa Guide Home
Anjuna Beach - Arpora In Goa - Beaches In Goa - Goan Food - Holiday Insurance - Goa Guide