Periyar Tiger Sanctuary
The Periyar Tiger Sanctuary in Idukki is Kerala's best known wildllife reserve, largely due to its population of 46 tigers. The landscape is of dense forests, sholas, streams, undulating hills and scrublands. Among the plants found here are 145 species of orchid. There are 63 species of mammals including the Asian elephant, tiger, leopard, lion-tailed macaque, sloth bear, slender loris, Nilgiri langur, sambar deer, mouse deer, wild boar and many more. Reptiles at Periyar include monitor lizards, fresh water tortoises, King Cobra snakes and kraits. There are 323 bird species, a third of which are migratory and can be seen between September and March. 160 types of butterfly also live in the park, including the southern birdwing - India's largest butterfly.




Periyar Tiger Sanctuary is very popular on the tourist trail, and numerous excursions into the park can easily be organised at your hotel, at the Ecotourism Centre on Thekkady Road in Kumily or with the official Thekkady Tourist Guides who might well find you in town. Activities in the reserve include boating, nature walks, jungle safari, camping, jungle patrol, hiking, spice tours and elephant rides. Entrance is on top of any programme you may decide on, and was R.25/R.300 for Indian/Foreigner when we were there in February this year.
Kumily is a pleasant town to walk around with tourist shops, cafes, plenty of accommodation options, a mosque and a couple of churches. It is surrounded by tea plantations and spice gardens, and visits to tea factories can be arranged here. Thekkady is the area just beyond the park entrance by Periyar Lake where many of the tours take place from. Many people use the name Thekkady to refer to the whole area.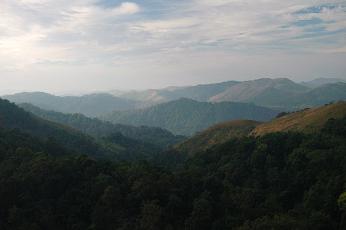 Getting There / Away
Visitors to Periyar Tiger Sanctuary should head to Kumily, 4 kms or so from Periyar Lake which is just inside the sanctuary. The bus stand is on the Thekkady Road in Kumily, right in front of the Tamil Nadu border, which runs east of town. Buses go to Ernakulam (Kochi) - 5 hrs, Kottayam - 4 hrs, Alleppey - 5.5 hrs, Munnar - 4.5 hrs and Trivandrum - 8 hrs as well as buses to Madurai from the Tamil Nadu bus stand just over the border.
Bicycles can be hired from the Bicycle Hire Shacks near the bus stands and are a lovely, cheap way to get around. Rickshaws also ply the streets. Kumily is small, so most exploring can be done on foot.
Orientation
The two bus stands are practically side by side, though the state border lies between them. Heading west along the Thekkady Road - the main road in town - from the bus stands will take you past a mosque and several churches. The road then crosses a bridge, (the government alcohol shop is here by the way, if you're interested) before veering south towards the Periyar Sanctuary entrance and Thekkady.
Where To Stay
There are accommodations inside the park, though they are expensive. Most visitors stay in Kumily, where the homestay scene is rapidly growing. There are some beautiful homestays in the area set among the green side streets in Kumily. We stayed in a homestay called Kerala House which was a stones throw from the park entrance and had balconies over-looking the sanctuary. We saw Sambar deer and bison grazing from just outside our room.
If you want to stay in the sanctuary and have plenty of cash, the Hotel Lake Palace accessible by boat over Periyar Lake is worth considering. Rooms have private patios, antique furniture and modern conveniences, and you may be lucky spotting wildlife in its quiet surroundings at dawn or dusk when other vistors have left the park.
Where To Eat
There are plenty of cafes and restaurants in Kumily. We enjoyed the Periyar Cafe which is just outside the entrance to the tiger sanctuary. It serves great inexpensive Indian meals and snacks as well as a few continental dishes. The large hotel just behind the bus stand (look out for the bright sign) serves excellent, unusual Indian meals and has private tables in small thatched huts. It serves ice cold Kingfisher beers, too. Sri Krishna just by the mosque in town does good cheap Keralan food - great if you have just arrived from travelling and are hungry.
Climate of Periyar Tiger Sanctuary

SEASONS:
Summer - April to June, average 21'C - 24'C
Monsoon - July to October, average 19'C - 21'C
Winter - October to March, cool temp., rarely below 15'C

In the summer months of May and June temperatures can climb to 37'C. When it is dry, there are better chances of seeing wildlife around the lakes.
Road Distance from Kumily to Other
Indian Destinations


Be Aware
Entrance to the tiger sanctuary does not guarantee sightings of elephants or tigers. Some lucky visitors will see elephants, others with an extreme case of luck may spot a tiger. You are far more likely to see the less timid animals that are associated with the park such as monkeys, giant squirrel, snakes, sambar, bison, deer, butterflies. The guides are knowledgeable, and will point out anything they see.
For photos of Kerala and links to guides on the state's sights and attractions, see our Kerala pictures page.

Read about the wildlife sanctuaries in Kerala.


---
Click here to leave Periyar Tiger Sanctuary and return to Travel India Goa Guide Home

Hill Stations - Beaches Of Kerala - Hill Stations - Cheap Flights To India - Kerala Houseboats